Competing with the hammer
Reylon Yount '16, a resident of Lowell House concentrating in Environmental Science & Public Policy and East Asian Studies, was awarded an Office for the Arts/Office of Undergraduate Research and Fellowships Artist Development Fellowship to attend the Central Conservatory of Music in Beijing to study yangqin (Chinese hammered dulcimer) with master Huang He. Yount has performed on campus as a soloist at Harvard Foundation's 2013 Cultural Rhythms, with The Harvard Undergraduate Drummers, at the Chinese Student Association's Chinese New Year's Banquet and at the 2013 Asian American Association's event FEAST. Additionally, in the fall of 2013 he was a featured soloist with the Reno Philharmonic Orchestra. After graduation, he plans to pursue a professional music career and development work in China. This is the second of his blog posts about his studies in Beijing this summer.
When living in China, one gets used to plans changing at the last minute. I originally thought that I would be staying in Beijing for the entirety of my yangqin study. But Professor Huang invited me a week in advance to join his students on a trip to Inner Mongolia where we would attend the 2nd Annual Chinese Dulcimer Arts Festival—a conference and competition that brings together the yangqin community from across Asia.
We spent a week under the clearer skies of Baotou alongside 700 yangqin students and 100 teachers. I got to meet many well-respected professors and students throughout the conference, including renowned composer Wang Se and famous performer Wang Yujue, both of whom were Professor Huang's former students and left me star-struck.
When I first arrived at the competition site, I was stunned by a storm of metallic sound blasting out of the first floor. I walked into the wide rehearsal room to find dozens of young people hammering away at brand new dulcimers, mothers by their sides using pamphlets to fan them while they played. It was astonishing—I had never physically encountered so many yangqins in one space before. Walking through the hallways, I could hear students of all ages practicing an array of different pieces, most of which I recognized, including "Spirit of the Yellow Earth" and "Falling Flowers, Night," which were my competition pieces. I noted that about two-thirds of the pieces being played were ones composed by Huang He or Wang Se. This observation affirmed for me that Professor Huang is arguably the most influential person in the yangqin world at present, making me even more grateful to have the opportunity to study with him.
The competition was long and grueling, but ultimately very rewarding. According to my teachers, I'm the first American to have ever entered a professional yangqin competition in China. I competed against 98 full-time yangqin undergraduates and managed to get a silver prize. To be able to participate already made me plenty happy, and I really enjoyed observing and learning from other competition entries.
The biggest reward of this experience was connecting with Huang He's other students, who are incredibly dedicated artists and kind people. They inspired everyone with their performances and took home the top prizes in each category. Offstage, we moved instruments together, took turns practicing in each other's hotel rooms, and played games to pass the time. In Chinese, you address friends with whom you share a mentor as your "study brothers" or "study sisters." Exchanging these terms with my new friends made me feel like I was truly a part of the Huang He yangqin family.
Every once in a while, I would remember that these humble kids are going to be tomorrow's Huang He, Wang Se, and Wang Yujue. They hold the future of this rare art form in their hands, and I trust that they will take it far. It feels utterly surreal to have suddenly become so close to my idols, and it makes me excited to see how far I can take my music, too.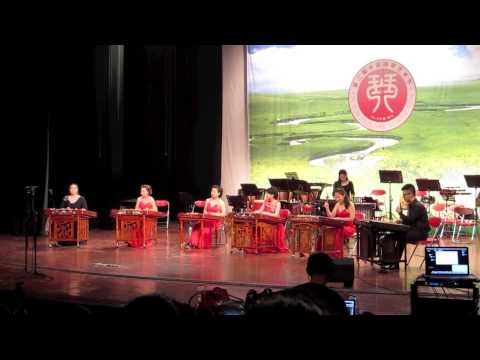 Categories:
Artist Development Fellows, Harvard, Music
"Falling Flowers Night", Baotou, Beijing, Central Conservatory of Music, Chinese Dulcimer Arts Festival, Chinese hammered dulcimer, Chinese Students Association, Cultural Rhythms, East Asian Studies, Environmental Science & Public Policy, Harvard Undergraduate Drummers, Huang He, Inner Mongolia, Lowell House, Office of Undergraduate Research and Fellowships, Reno Philharmonic Orchestra, Reylon Yount, Wang Se, Wang Yujue, yangqin, "Spirit of the Yellow Earth"